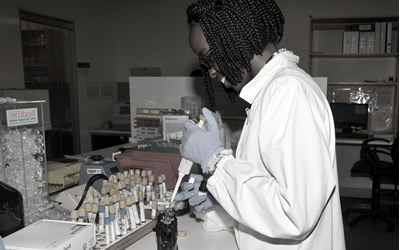 The National Health Laboratory Service (NHLS) was formed in 2001. The NHLS comprises of former South African Institute for Medical Research (SAIMR), the National Institute for Communicable Diseases (NICD), the National Institute for Occupational Health (NIOH) and the former state laboratory services, which between them have provided both a research and diagnostic laboratory service for the public sector in South Africa since 1912. The Kwazulu-Natal (KZN) provincial laboratories were incorporated into the NHLS on 01 October 2006.
Part of the function of the NHLS Quality Assurance Division is to provide Proficiency Testing schemes (PTS) for all laboratory specialties. These schemes, which are under continuous review and are designed to be technically relevant, currently covers Biochemistry, Haematology, Mycobacteriology, Serology (Syphilis and HIV), Flow Cytometry, Bacteriology, Parasitology and Mycology.
NHLS QAD provides these PT schemes to all NHLS laboratories in South Africa and laboratories in over 20 countries throughout Africa. The QA Division also co-ordinates and advises on the use of international Quality Assessment Programmes for specialist assays, and has the responsibility for monitoring the quality of service provided by the NHLS laboratories.
The following PT Schemes are accredited to ISO/IEC 17043:2010 requirements:-
The Schemes complies with requirements of ISO/IEC 17043:2010. The list of accredited schemes is available on the SANAS website under accreditation number PTS0005: –
The PT Schemes run by the NHLS have been designed with a specific purpose in mind, namely, to measure laboratory performance against established (and best practice) criteria. In order to achieve the highest levels of objectivity, the management of these PT Schemes is carried out by the Quality Assurance Division, Sandringham, Johannesburg which is entirely independent of the core service functions of the NHLS with a line function that reports directly from the NHLS QA Executive Manager to the NHLS Chief Executive Officer (CEO). As a consequence of this structure, the risk of collusion between participants is mitigated, and a level of objectivity is maintained.
Accreditation of the PT Schemes infers parity with similar international PT Schemes. In order to achieve this accreditation, many stringent technical requirements must be satisfied, which includes integrity of data, accuracy of results, and preservation of the confidential nature of participant results.
Proficiency Testing forms
Participants may send results by electronic system. facsimile or email, before the nominated closing date.
As most of the PT Schemes statistically analyse participant performance by comparing individual results to a consensus of the mean (ISO/IEC 17043:2010), results received after the closing date (and thus after the calculation of the statistical mean) cannot be processed.
Results submitted to an incorrect fax number or email address will also not be accepted.
Participant results are analysed and distributed before the next survey. Reports are printed and posted to participants. The delivery of these reports is by courier.
The NHLS Proficiency Testing Schemes (PTS) has an automated enrolment process. Use this link to access the enrolment page: http://webpts.nhls.ac.za.
All laboratories need to enroll their individual PTS's through this portal. Participation fees are levied for applicants external to NHLS laboratories.
For requests, queries or access to the website, please contact the NHLS PTS Department on ptsadmin@nhls.ac.za.
Details of Schemes Offered
APPEALS
Please direct all appeals regarding scoring/ evaluation of your performance to the relevant Proficiency Scheme Manager using the contact details published in this booklet.
COMPLAINTS/ FEEDBACK
We value your feedback. Please direct your comments and suggestions to:
Ms Patience Dabula
National Quality Assurance Manager
NHLS
Private Bag X8
Sandringham
2131
South Africa
Phone: 0027 (0)11 386-6151/6147
e-mail: patience.dabula@nhls.ac.za
NHLS Proficiency Testing Schemes (PTS) Acknowledgements
The NHLS PTS would like to extend a sincere thank you to the following committees and Laboratories for their contribution towards the PT Schemes The above committees and departments contribute towards immensely to the PT process such as sample confirmation, sourcing, preparation and selection to advice on various issues concerning PT:
Microbiology Advisory Committee (MAC) : Dr R Chomba, Dr P Jaglal, Prof N Govender, Dr F Ismail, Dr MC Kolojane, Prof RM Lekalakala, M Smith, Dr MRB Maloba, Dr Y Mahabeer, Dr Z Makhathini, Dr M Moncho, J Scholtz, Dr K Lutchminarain.
Virology Advisory Committee (VAC): Dr D Goedhals, Dr S Korsman, W Lenyatsa, Dr P Moodley, T Stander, Dr V Muthambi.
Parasitology Advisory Group (PAG): Prof. J Frean, B Moodley, B Mogoye, I Du Plooy.
The Chemistry Advisory Group: Dr V. Gounden and Dr S.S. Nagel, Dr S Khan and Dr L Masika.
The Haematology Advisory Group: Dr P Keene, Dr Sharon Officer, Dr Elise Schapkaitz, Dr S Louw and Prof L Scott.
Syphilis Advisory Group (SAG): Dr R Kularatne, V Maseko.
Centre for Healthcare-Associated Infections, Antimicrobial Resistance and Mycoses (CHARM), NICD
NHLS Charlotte Maxeke Johannesburg Academic Hospital (Microbiology, Haematology, Flow Cytometry Medical School Laboratories)
NHLS Chris Hani Baragwanath Microbiology Laboratory
Parasitology Reference Laboratory, NICD
WITS Research Institute for Malaria (WRIM) Pharmacology team
Pelonomi Haematology Laboratory
We Thank You!