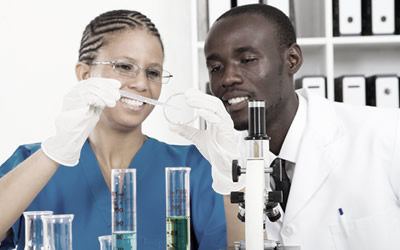 The National Health Laboratory Service (NHLS) is the largest diagnostic pathology service in South Africa, with the responsibility of supporting the national and provincial health departments in the delivery of healthcare.
The NHLS provides laboratory and related public health services to over 80% of the population through a national network of laboratories.
Our specialised institutes include the National Institute for Communicable Diseases (NICD), the National Institute for Occupational Health (NIOH), and the South African Vaccine Producers (SAVP), as our subsidiary.
The NHLS has laboratories in all nine provinces, employing approximately 7000 people. Its activities comprise of Diagnostic Laboratory Services, Research, Teaching and Training, and Production of Sera for Anti-Snake Venom, Reagents and Media.
The NHLS is Mandated to:
Provide cost-effective and efficient Health Laboratory Services to all public sector healthcare providers;
Support and conduct Health Research; and
The NHLS is the largest diagnostic pathology service in South Africa, with laboratories in all nine provinces served by 6,700 members of staff, and covering 80% of the country's population.
The NHLS Plays a Major Role in:
Public health in South Africa through Epidemiology, Surveillance and Outbreak response activities;
The National Antiretroviral roll-out programme through CD4+ viral load studies and HIV Treatment Monitoring;
Tuberculosis Diagnosis and Treatment Monitoring;
The screening for Cervical Cancer; and
The support of Occupational Health services.
To render efficient patient centred services and become a global centre of excellence for innovative laboratory medicine

To provide quality, affordable and sustainable health laboratory services through an integrated network of laboratories, the provision of training for health science education and the execution of innovative and relevant research with focus on patient care.

Care: Caring about the environment and society
Unity of Purpose: All Working together towards a common goal
Service Excellence: Valuing good work ethics and striving towards service excellence for customers
Transformation: Looking forward to the future and growing together
Innovation: Pioneering relevant research solutions and training
Integrity: Working with integrity and responsibility