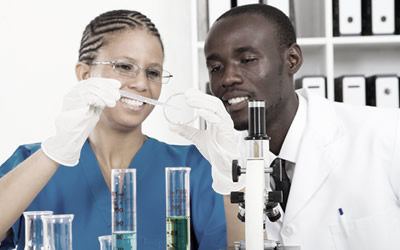 The NHLS is a national public entity established in terms of the National Health Laboratory Service Act, No. 37 of 2000, governed by a Board to provide quality, affordable, and sustainable health laboratory services, training, and research. It was established in 2001, by amalgamating the former South African Institute for Medical Research (SAIMR), the National Institute for Virology and the National Centre for Occupational Health. It is managed according to the provisions of the National Health Laboratory Service Act, the NHLS Rules, and the Public Finance Management Act (PFMA), No. 1 of 1999 (as amended).
Through its countrywide network of quality-assured diagnostic laboratories, the NHLS is the sole provider of diagnostic pathology services to over 80 percent of the South African population. It also provides surveillance support for communicable diseases, occupational health and cancer..
Our specialised institutes include the National Institute for Communicable Diseases (NICD) incorporating National Cancer Registry(NCR), the National Institute for Occupational Health (NIOH), Forensic Chemistry Laboratories (FCL) and the South African Vaccine Producers (SAVP), as our subsidiary.
The NHLS has laboratories in all nine provinces, employing approximately 8000 people.
The NHLS is Mandated to:
Provide cost-effective and efficient Health Laboratory Services to all public sector healthcare providers;
Support and conduct Health Research; and
Provide Training for Health Science Education in conjunction with medical facilities at universities and universities of technology.
The NHLS Plays a Major Role in:
COVID-19 testing in South Africa;,
Public health in South Africa through epidemiology, surveillance and outbreak response activities;
The national antiretroviral roll-out programme through Cluster of Differentiation 4 (CD4) and viral load studies and HIV treatment monitoring;
Diagnostic testing for non- communicable diseases;
Monitoring of tuberculosis (TB) diagnosis and treatment;
The screening for cervical cancer; and
The support of occupational health services.
To provide a high-quality pathology and laboratory services that are clinically efficient and cost-effective.
The NHLS will provide pathology and laboratory services through competent professionals and state-of-the-art technology, supported by evidence-based research, training, and innovation to enhance integrated service delivery to meet the needs of the population.
The NHLS has identified the following values as the principles that govern the behaviour of all employees within the organisation:
Share This Page, Choose Your Platform!