National CD4 Count Testing Programme
National Reflexed Cryptococcal Antigen Testing Programme
Prof Debbie Glencross:  Director, CD4 National Priority Programme
Dr Lindi Coetzee:            National CD4 Coordinator
Naseem Cassim:             Health Data Analyst and PhD Candidate
Sithembile Mojalefa:     Technical Trainer
Glodean Mokone:          Technical Trainer
Background and Operations
In South Africa CD4 testing is used to assess the immune status of newly diagnosed HIV patients prior to initiating antiretroviral therapy1, 2, 3 as well as assess the risk for co-infections including Cryptococcal meningitis, Tuberculosis and Pneumocystis Carinii.
Since implementation in 2004, more than 38 million CD4 tests have been provided through the programme. The CD4 unit currently supports 49 testing facilities across South Africa through training, site visits, on-site audits, preparation for SANAS accreditation and assessment of appropriate testing platforms. National Standard Operating Procedures (SOP's) are distributed for both CD4 and related testing to ensure standardisation across all testing facilities. Laboratory performance on the NHLS External Quality Assessment (EQA) programme and Beckman Coulter IQAP are monitored to assess laboratory performance. Test volumes and turn-around-times (TAT's) are monitored routinely to identify laboratories with challenges, including pre-analytical, analytical or post-analytical delays.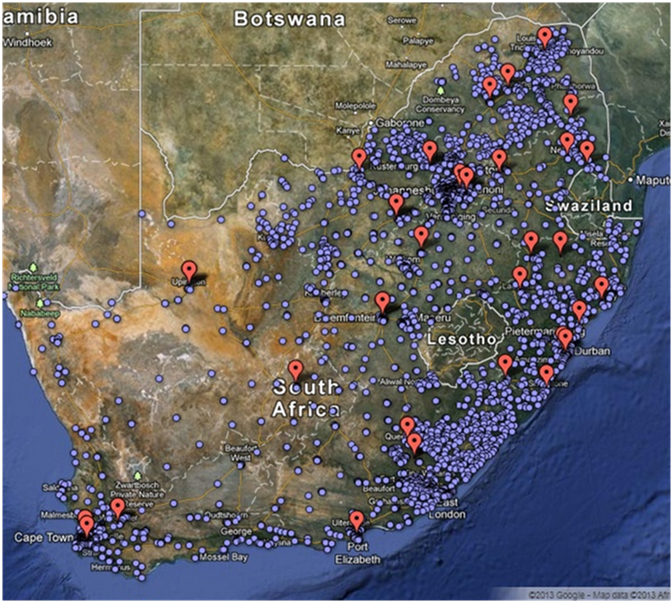 Figure 1: Location of CD4 Count testing laboratories in South Africa.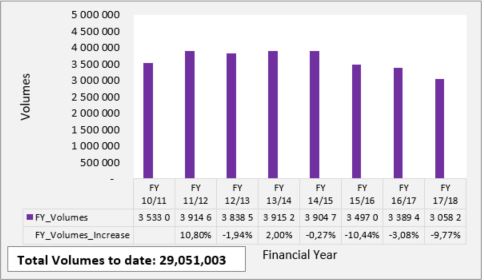 Figure 2: CD4 Count testing volumes per financial year since programme inception.
Where identified, timeous operational interventions are planned to strengthen the national CD4 laboratory network. Laboratory capacity is monitored to ensure adequate testing platforms for continued quality of testing. The placement of instruments is regulated through established tender processes, adjudicated through three successive tender rounds to Beckman Coulter, the most recent awarded in March 2018.
The CD4 unit also assists with other NPP activities including, costing studies, ideal placement of equipment, operational research/intelligence and instrument validation studies as required. Lessons learned through CD4 activities and initiatives are further being applied to extend the research and development repertoire of the unit to non-communicable disease.
Team member Mr Naseem Cassim is currently reading for his PhD degree; the focus of which are directed to the research of Prostate Cancer in Gauteng using a novel approach involving mining of laboratory Prostate Specific Antigen and prostate biopsy data as a means to extract clinical outcomes and disease prevalence.
References
1WHO. Guidelines for managing advanced HIV disease and rapid initiation of antiretroviral Therapy. Geneva, Switzerland, 2017 July.
2Meintjes G, Moorhouse MA, Carmona S, et al. Adult antiretroviral therapy guidelines 2017. S Afr J HIV Med. 2017;18(1), a776. https://doi.org/10.4102/ sajhivmed.v18i1.776
3WHO. Guidelines for the Diagnosis, Prevention and Management of Cryptococcal disease in HIV-infected Adults, Adolescents and children. Policy brief. Geneva, Switzerland, March 2018.
Unit Achievements
1. CD4 services:
− At the commencement of the first South African antiretroviral treatment programme in 2004, the team introduced a novel, more affordable and locally developed PanLeucogating (PLG/CD4) technology for CD4 testing.
− Implementation of Beckman Coulter XL cytometers from 2004 and implementation of high volume MPL/CellMek systems for CD4 testing from 2010 onward.
− Replacement of Beckman Coulter XL cytometers with Aquios instruments from 2016 onward in low volume sites.
Laboratory data analysis for prevalence of infectious and non-communicable disease linked to CD4 testing.
Cryptococcal antigen (CrAg) testing:
Cryptococcal Meningitis (CM) is a common opportunistic infection in HIV patients, with high mortality rates preventable by early detection and antifungal treatment.
In an international first, supporting rollout of National Department of Health policy, reflexed Cryptococcal antigen (CrAg) screening was commenced in all patients with a confirmed CD4 count <100cells/µl to facilitate screening of all indigent HIV positive patients for cryptococcal co-infection.
Due to the high burden of disease amongst HIV patients, at least 10% of all CD4 samples tested are reflexively tested for Cryptococcal disease.
The current positivity rate (detection of disease) varies by province, district and sub-district with overall current national disease prevalence noted to be ~5-6%.
In preparation for the Cryptococcal screening programme, full costing of reflexed vs. traditional clinician-referral approaches were undertaken together with detailed work load and prevalence studies. The NPP CD4 continues to monitor incidence and prevalence to identify high-risk areas for clinical intervention.
Service achievements:
Initiation and development of the African Regional External Quality Assessment Programme in collaboration with the World Health Organisation in 2005/6, which had attained substantive participation by 2010 across 20 countries and more than 550 participating sites. This scheme now runs independently as the NHLS CD4 PT scheme.
Development of a tiered service model (ITSDM) to provide for full service coverage across the country irrespective of geographical location; impact of implementation and costing models are described.
Development of management tools, i.e. dashboards to enable NHLS managers to effectively manage service turn-around-times (TAT) for a basket of tests, including CD4, to assess laboratory performance across a representative number of laboratory tests.
4. Significant awards
Prof D Glencross in relation to the development of PLG CD4 mentioned above:
1. 2016: African Society of Laboratory Medicine (ASLM), December 2016, Lifetime achievement award: Honorable mention.
2. 2013: South African HIV/AIDS Conference 'Dira Sengwe' Leadership award for the contribution to "making our South African HIV programme something that South Africa can finally take pride in".
3. 2004: A South African National Science Technology Forum (NSTF) Award, for Research and Innovation over previous two years (awarded by the National Department of Science, Engineering and Technology for Outstanding Contribution to the Science in South Africa).
4. 2003: South African National Productivity Institute – Gold Award: Individual Category. The South African National Gold Awards are the highest award recognised by the South African National Productivity Institute and are issued in acknowledgement of a company or individual's contribution to productive capacity building in South Africa. The award is based on improved productivity through innovation sustainability; enabling a competitive advantage; and development of a culture focusing on productivity and on-going improvement.
5. 2002: International JP Morgan Chase Health Award Laureate.
6. Awarded for Innovation in Health Technology by the Tech Museum in San Jose, CA, USA. One of five Laureates identified internationally).
http://www.thetech.org/about/press/archive.php?id=23
http://www.techawards.org/laureates/stories/index.php?id=47
7. 2002: South African 'Woman of the Year' Finalist.
http://www.shoprite.co.za/default.asp?pageID=199106463